Air Touch - Defy Gravity Sleep on Air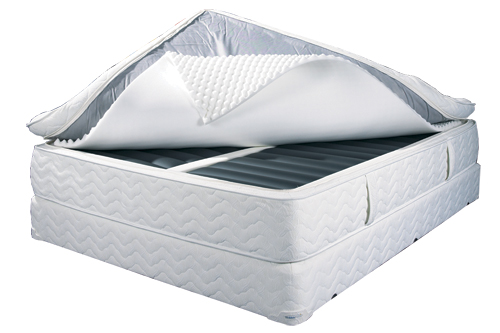 The world's most advanced, multizoned, programmable air mattress
421,875 possible settings
6 adjustable support cells
2 individual comfort zones
1 great mattress
6-zones of advanced, customizable support
Your body doesn't feel the same everyday, neither should your bed! On an a Airtouch Mattress you can adjust your side of the bed to the exact firmness level feel you want… even if that changes from day to day. Each side of the bed features three independent support zones to provide complete customization options that won't disturb your partner. Setting different levels of firmness for each part of your body can help relieve neck or back aches, leg cramps or even sore feet. Our programmable controller also features a convenient memory button so you can return to your ideal settings anytime
Reduced Motion transfer for peaceful sleep
On an AirTouch Mattress, no matter how much your partner tosses and turns you will be at peace in your own comfort zone. Our exclusive Transition Cushion (rail in middle) assures that you will not feel motion transfer or any comfort void, no matter where on the bed you rest. Plus, the perimeter rail design adds extra stability, expands the usable sleep surface and provides a firm seating edge
Quality construction for peace of mind
The unique full tube i-beam construction is bonded at the molecular level to provide durability that far surpasses other air mattresses. We also use high density polyurethane side rails, imported fabric covers and premium upholstery materials to assure that you enjoy years of quality sleep.
High Performance, low decibel
The air pump runs only when you want it to , assuring you of peaceful sleep. When you adjust the firmness of the mattress, the ultra-quiet, high performance pump delivers 50 liters of air per minute to quickly achieve the perfect setting in any of the three zones. The easy-to-use control pendant features a large backlit LCD panel, so you can customize your bed, even in the dark.
Available in sizes Queen - King
Media Centre
Tuesday April 21, 2015
Therapedic lands $10m bed contract to supply Half Moon Resort
more
Our Mattress Care Tips
" Expect some sort of adjustment period. After all those years on the old bed, you may need some time to get used to the "feel" of the new set— like breaking in new shoes. It may take you a week or so— or, it could be as short as the time it takes you to fall asleep the first night."