About Therapedic
The manufacturing of mattresses has been a Morgan's family tradition since 1958.
Therapedic International who is among the Top 5 largest sleep products manufacturers with some sixty or more factories on six continents recognized the Morgans' potential and signed a licensing agreement in 1984 to produce sleep products under the giant Therapedic brand.
Therapedic Caribbean has been meeting the growing needs of the worldwide bedding industry with patented, exclusive, highly engineered and innovative sleep products that are made to very strict international standards as is expected of an internationally recognized brand.
Our Ultra-modern, 40,000 square foot production facility is located in Portmore, St Catherine, Jamaica and is equipped with the most state-of-the-art equipment needed to compete in a very competitive global market space and meeting the needs of our very demanding customers with the best possible quality and output.
It is with this focus and determination that Therapedic Caribbean has become the leading and most complete supplier of bedding and accessories in Jamaica. We have built a very solid reputation in all the market segments we compete in which has made us the most dominant suppliers to the local furniture retail trade, hotel sector and institutions in Jamaica.
Our product range has grown immensely over the years and we now produce the most impressive lineup of sleep products ever made in Jamaica and the Caribbean. We produce from Adjustable massage beds to Programmable Air Mattresses, Visco-elastic Memory foam beds, a variety of innerspring and all foam mattresses and Accessories that include Memory foam toppers, Contoured Memory foam pillows, mattress protectors, pillow protectors and mattress converters.
Therapedic Caribbean continues to play its role in nation building and are good corporate citizens.
Therapedic Caribbean is a member of the Morgans Group which comprises of Polyflex Foam Limited (Polyurethane foam) and Jumbolon Jamaica Limited (polyethylene foam), all manufacturing entities.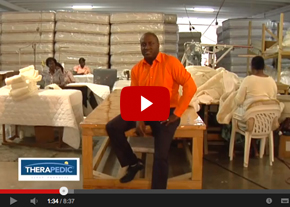 Therapedic Caribbean Corporate Video
Media Centre
Tuesday April 21, 2015
Therapedic lands $10m bed contract to supply Half Moon Resort
more
Our Mattress Care Tips
" Expect some sort of adjustment period. After all those years on the old bed, you may need some time to get used to the "feel" of the new set— like breaking in new shoes. It may take you a week or so— or, it could be as short as the time it takes you to fall asleep the first night." more tips