Welcome to Therapedic...

Welcome to our world of Sleep
The manufacturing of mattresses has been a Morgan's family tradition since 1958.
Therapedic International who are among the Top 5 largest sleep products manufacturers with some 60 or more factories on six continents recognized the Morgan's potential and signed a licensing agreement to produce sleep products under the Therapedic brand.
Therapedic Caribbean has been meeting the growing needs of the worldwide bedding industry with patented, exclusive, innovative sleep product designs and engineering.
Our Ultra-modern, 40,000 square foot production facility is located at Naggos Head, St Catherine, Jamaica. It is equipped with the most state-of-the-art equipment available in the bedding business which guarantees us the best output and quality.
We are currently the leading suppliers of bedding to some of the largest retail stores, hotels, hospitals and other institutions in the Caribbean.
Therapedic is a member of the Morgans Group which comprises of Polyflex Foam Limited (Polyurethane foam) and Jumbolon Jamaica Limited (Polyethylene foam), all manufacturing entities.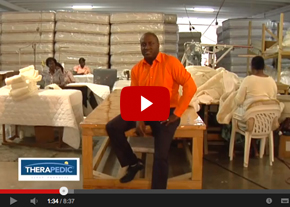 Therapedic Caribbean Corporate Video
Media Centre
Wednesday March 29, 2017
Therapedic Makes Inroads In Hotel Market
more
Our Mattress Care Tips
"Expect some sort of adjustment period. After all those years on the old bed, you may need some time to get used to the "feel" of the new set— like breaking in new shoes. It may take you a week or so— or, it could be as short as the time it takes you to fall asleep the first night." more tips